Have you ever wanted to unlock the full potential of your favorite apps and games? Mod APKs (Modified Android Application Packages) offer a thrilling way to enhance your digital experience by providing customized features, unlimited resources, and exciting modifications. To fully enjoy the benefits of Mod APKs, you'll often need to pair them with OBB (Opaque Binary Blob) files, which contain additional data required for certain modifications. In this step-by-step guide, we will walk you through the process of installing Mod APKs with OBB files, enabling you to embark on an extraordinary journey of exploration and customization. So in this blog post, we guide you on how to install Mod APK with OBB File and many more others.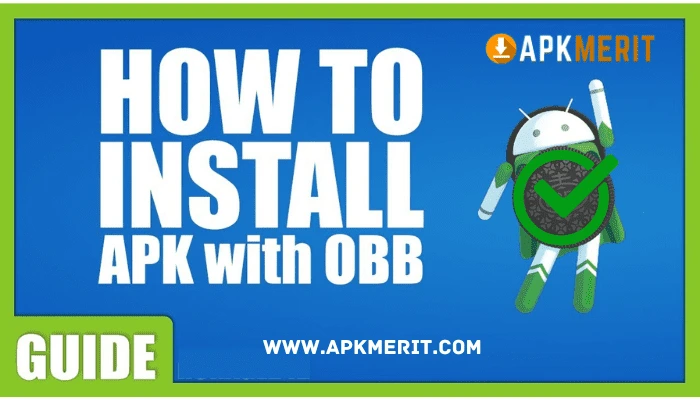 What is Mod APK?
Mod APKs are altered versions of original Android applications that have been modified to provide users with unique features and functionalities. From unlocking premium content to providing unlimited in-game resources, Mod APKs offer a range of exciting possibilities. However, certain modifications may require additional data that cannot be included within the APK itself. This is where OBB files come into play.
What are OBB Files?
OBB files, also known as opaque binary blobs, are additional data files that contain resources such as graphics, audio files, and other assets required by the Mod APK to function properly. These files are typically larger in size and need to be placed in specific directories on your device to be recognized by the modified application.
Preparing for installation Mod APK with OBB Files?
Before diving into the installation process, it's essential to ensure that your device meets the necessary compatibility requirements. Mod APKs may have specific device or software version prerequisites, so be sure to check the documentation provided with the Mod APK to verify compatibility.
Additionally, you will need to allow installation from unknown sources on your device because Mod APKs cannot be obtained from the official Google Play Store. To achieve this, open the settings menu on your smartphone, select the "Security" or "Privacy" tab, and turn on the "Unknown Sources" setting. You'll be able to do this to install apps from places other than the Play Store.
Next, you'll need to acquire the Mod APK and the corresponding OBB file. Look for reliable sources like APK Merit that offer verified Mod APKs and ensure that the files you download are from reputable providers. It's crucial to exercise caution when downloading files from the internet to protect your device and personal information from potential security risks.
How to Install Mod APK with OBB Files?
Step 1: Installing the Mod APK
Start by locating the downloaded Mod APK file on your device. This is typically found in the "Downloads" folder or the location you specified during the download process. Tap on the Mod APK file to open it, and you will be prompted to begin the installation process. To finish the installation, adhere to the on-screen directions. Do not immediately start the application when the installation is complete.
Step 2: Extracting and Copying the OBB File
Locate the downloaded OBB file on your device. This file will typically have an extension like ".obb" and may be located in the same directory as the Mod APK file. If the OBB file is compressed in a ZIP or RAR archive, use a file extraction tool like WinZip or RAR to extract its contents. After extracting, you should see a folder containing the necessary files for the modification.
Next, navigate to the appropriate directory where the OBB file should be placed. The directory path may vary depending on the application. Usually, it is located in the "Android" folder on your device's internal storage or SD card. Look for a folder named "OBB" within the "Android" directory. If the folder doesn't exist, create one.
Step 3: Verifying the Installation
Once you have copied the OBB files to the appropriate directory, it's time to verify the installation. Launch the installed Mod APK on your device. If the Mod APK is compatible with the OBB file and the placement was done correctly, the application should detect and load the additional data from the OBB file automatically. You can now enjoy the enhanced features and modifications provided by the Mod APK.
Troubleshooting Common Issues During Downloading Mod APKs
While the installation process is generally straightforward, you may encounter a few common issues along the way. Here are some troubleshooting tips to help you overcome them:
Navigating Obstacles: Addressing Error Messages During Installation
If you encounter an error message during the installation process, double-check that the Mod APK and OBB files are compatible with your device's specifications. Ensure that you have followed all the installation steps correctly, including enabling installation from unknown sources.
Puzzling Placement: Correcting OBB File Placement Mistakes
If the Mod APK fails to detect the OBB file, the issue might be related to incorrect placement. Revisit Step 2 and verify that the OBB file is placed in the correct directory. Make sure the OBB folder name matches the requirements of the Mod APK.
Compatibility Matters: Tackling Device and APK Version Compatibility Issues
If you experience compatibility issues between the Mod APK, OBB file, and your device, it's possible that the Mod APK is designed for a specific Android version or device architecture. Ensure that you have downloaded the correct versions and check for any compatibility notes provided by the Mod APK provider.
Benefits of Mod APKs with OBB Files
Installing Mod APKs with OBB files opens up a world of possibilities for customization and enhanced experiences. Whether you want to unlock premium features, get unlimited resources, or modify gameplay mechanics, Mod APKs offer a thrilling way to customize your apps and games to your preferences.
Conclusion
Although Mod APKs can enhance your digital experiences, it is very important to use them responsibly. Keep in mind that modifying apps may violate the original developers' terms of service, and there may be risks associated with downloading Mod APKs from untrusted sources. Exercise caution, stick to reputable providers, and be aware of potential security risks when downloading and installing modified applications.